Windows Startup Manager
Download free demo now:
Download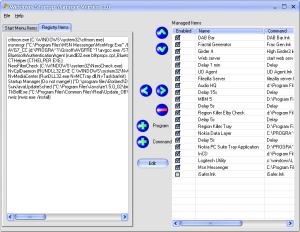 To be notified of updates subscribe to my Mailing List

Windows Startup Manager allows you to force programs that startup with windows to run in a specific order.

Features:
Quick and easy installation and setup
Only manage the programs you need to manage, leave the rest to be started normally by windows
Add a delay between programs starting
Make programs start in any order

Manage programs from the start menu and registry
Enable or disable individual programs
Detailed user documentation

Load and save sets of programs to load at startup
Start programs with custom priorities

Only £10 for the full version!
Free upgrades for life!
Automatic update checking system
Runs under Windows XP/2000/Me/98/95/NT*

Note this program has only just been released and more features will be added soon

*Program has been tested under Windows XP and 98 but will run on other Windows versions too.